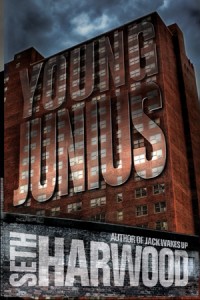 When asked, I never pass up an opportunity to vociferously champion the work of fellow new media creators -- which is why I'm thrilled and honored to present this free PDF of author Seth Harwood's brilliant thriller, Young Junius. Here's the jacket copy for Young Junius:
In 1987, fourteen-year-old Junius Posey sets out on the cold Cambridge (Mass.) streets to find his brother's killer in a cluster of low-income housing towers—prime drug-dealing territory. After committing a murder to protect his friend, he finds himself without protection from retribution. His mother gives him fifty dollars and instructions to run, but Junius refuses to live a life in hiding. Instead, shocked by the violence he's created and determined to see its consequences, he returns to the towers to complete his original mission.
I've read this book, and it's wonderful. But don't take my word for it -- check what these mainstream book critics and influencers have said about Harwood's terrific work:
"Harwood's cutaway view of a single bloody day in a housing project is an impressive feat . . . Harwood's empathy runs deeply indeed." -- Booklist (review: Young Junius)

"Searing ... a vicious black comedy of murderous errors. Harwood pulls no punches." -- Publishers Weekly (review: Young Junius)

"I loved the way he drew a canvas and filled it with characters. I'm still afraid of some of them." -- Seth Godin on Seth Harwood's Jack Wakes Up
Want to learn more? Check out the free PDF (linked below), and learn how you can support the print release of Seth Harwood's Young Junius
by visiting Seth's website
.
--J.C.