All right folks, it's Tuesday, which means DVD releases and the chance to meet a new fan! Meet Fan Of The Day Chris, a podcast novelist from Canada.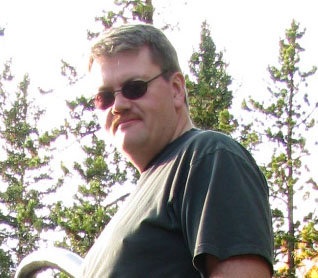 Chris H
Your location: Calgary, Alberta, Canada
Website, Twitter, etc.: http://outcastnovel.wordpress.com
Your hobbies or interests: reading, writing, music, swimming, biking, movies
7th Son fans rock because: we know what we like. We refuse to digest the literary garbage the big-name publishers try to shove down our throats. Instead we rant and rave for independent media...media that matters...media like 7th FRAKKING SON BIAAAAAAATCH!
What else would you like The Beta Clone Army to know about you? I'm currently working on my own podcast novel project, called 'Outcast.' You can check it out at http://outcastnovel.mevio.com, and it will soon be available at Podiobooks.com
Independent creators finding an audience is what it's all about. Everybody, be sure to check out Outcast, now available on podiobooks!
Will YOU be the next Fan Of The Day? Get all the deets at the Fan Of The Day page ... or fill out the form below!
--J.C.